Naretoi e.V. is a charitable society based in Germany which supports adult education and provides sponsorships for needy children in Kenya, District Narok South since 2010.
Main activities:
- Adult education program
- Student program
- computer education center / cyber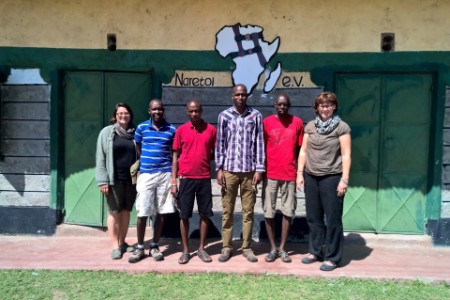 Members of the board in Germany:
Heike Laengle (Chairman)
Birgit Faas (Vice-Chairman)
Team Members of Naretoi e.V. in Kenya:
Moses Sikona (Project Coordinator)
John Masek (Project Manager)
Julius Depe (Community Liaison Officer)
Joseph Liaram (Organising Secretary)
How it began ...
Everything began with a trip to Kenya, Masai Mara in the year 2004 where we met John Masek a young Massai. Within only 5 days a friendship started, that made us support him in his biggest wish to catch up with education that he had missed as a child due to several reasons. So he went to Nairobi to learn how to read and write, to speak English and how to calculate. In 2009 when we visited John for the 3rd time we saw the positive influence of education not only to John himself but also to his surrounding family members.
We also met several other adults, but still young Massai men and women ready to get educated asking us for support and telling us: "We are still young enough to manage to get educated, for later on to be able to take care of our families by ourselves! In the area of Masai Mara there are many possibilities to earn money in tourism, but there is no access to these jobs without education."
That was when we decided to start a small adult education program in the area of Talek, Masai Mara, Kenya. Still only family sponsored we hired a teacher that educated adults in the afternoons, using the local possibilities such as the classrooms of Talek Primary School. Same time we started thinking of also supporting children of really needy families. Families, that still do not have any access to education.
We knew that to start this we would need more money and to make fundraising easier in Germany we established Naretoi e.V. as a charitable society in May 2010.
Naretoi in the language of the Massai people of Kenya and Tanzania means: Many people are joining hands to help achieve a common goal.